The Crew
Corpsman.com is dedicated to provide a Web Interactive space for all Enlisted Medical Personnel from all services. This is to give you all a free place to dwell, stay in contact with your family and friends, help others who have questions about your Service Specific Jobs.
---


HMC(AW) DARRELL F. CRONE USN(Retired) (Owner Corpsman.com)

HMC(AW) Darrell F. Crone, Joined the Navy as a Split SAM (Sea Air Mariner) 23 May 1984 in Alameda, CA. I went to Boot camp in San Diego CA, and was discharged to reserve duty until my "A" School in Great Lakes, IL which I attended in July 1985. I graduated HM"A" School, October 1985, then was sent off to Camp Pendleton, CA for a few glorious weeks of "MARINE CORPS TRAINING!" ;-)During my time at Camp Pendleton, I went home on liberty one weekend to sign a request to go on active duty as a "TAR" HM. I finished FMSS in November right after Thanksgiving and was once again discharged from Active Duty to reserve duty assigned to the MAG in Alameda. (I only drilled one weekend!) I was activated to the TAR program 2 January 1986 and have been on active duty since. The following are my duty stations.
Feb 1986 – May 1989 Naval Clinic NAS Dallas
May 1989 – July 1989 AVT school, Pensacola
July 1989- Feb 1992 VP-94 (Crawfishers)
Feb 1992- Mar 1995 VFA-204 (River Rattlers) (Served with VADM Cotton, My CO)
Mar 1995 – Jun 1998 NAS JRB NAVMED Clinic New Orleans
Jun1998 – Oct 2000 NARA/NARCEN Great Lakes
Oct 2000 – Apr 2003 I&I BN MED CHIEF 1st BN 14th Marines
Apr 2003- Nov 2004 Naval Hospital Great Lakes
Nov 2004 – 2007 Instructor Naval Hospital Corps School.
July 1st 2007- RETIRED, Duty Station: COMNAVHOMECOM
Places I have been sent to; Rota, Spain, Germany, France, Africa, Portugal, Bermuda, pretty much a med HM.
All of this and I could not have done it without my wonderful family,
Karen (wife) Christopher, Mikayla, Courtney and Spencer Crone. They are my guiding force for my career as well as this website.
---


HMC(FMF/SW/AW) TRACY P. BARLING (SYS-ADMIN/ Partner Corpsman.com)

HMC(FMF/SW/AW) TRACY P. BARLING, joined the Navy as a Split SAM, Aug 1985 in Baton Rouge, LA. On 04 Sep 85, I started Boot Camp at RTC Great Lakes, graduated Oct 1985 and completed Apprenticeship Training Deck (ATD) Nov 1985. I then reported to Navy – Marine Corps Reserve Center Baton Rouge, served there as part of SIMA San Diego Detachment. In 1987 I decided to get a different job, so I went to HM "A" School and found myself back in Great Lakes from May – July 1987. Again I returned to NMCRC Baton Rouge where I ended up on the Marine Corps side of the house without attending FMF "C" School. In April of 1988, I decided to go Active Duty. The following are my duty stations:
May 1988 – June 1990 – Navy Branch Medical Clinic Key West FL
July 1990 – Feb 1991 – HM 8432 "C" School Oakland CA
March 1991 – June 1993 – USS Ranger (CV-61)
June 1993 – Jun 1994 – USS Long Beach (CGN-9)
July 1994 – May 1997 – Naval Hospital Pensacola FL
May 1997 – Sep 1997 – Field Medical Service School Camp Lejeune NC
Sep 1997 – Oct 2001 – 2d Marine Division Camp Lejeune NC
Oct 2001 – Oct 2004 – II Marine Expeditionary Force Camp Lejeune NC
Oct 2004 – Present – 2d Marine Aircraft Wing Cherry Point NC
Deployments: 2 West PACs ISO Desert Storm/Desert Shield/Southern Watch onboard CV-61, 1 Caribbean PAC onboard CGN-9, UDP Oki with 2nd Bn 6th Marines, Med Float with 2nd Bn 6th Mar (24th MEU), OIF with 2d MEB (Task Force Tarawa), OIF with MWHS-2.
All of this couldn't have been completed without the support, understanding and sacrifices of my family. My wife Linda, my three sons Joseph, Travis and Zachary, Step-daughter Charly and grandson Andrew.
---

DeeDee (Editor)

Well, I have to admit that this is a lot easier when you are doing it about someone else. But here I am telling you about myself and why I am here at Corpsman.com.
After graduating from Morrice High School in June 1984 I enlisted in the US Air Force and left on 27 December 1984 from Detroit, Michigan for Basic Training at Lackland AFB in San Antonio, Texas where I spent the winter of 1984 – 1985. From there I went to Sheppard AFB in Wichita Falls, Texas to be educated in the field of Air Cargo Specialist. Upon completion of this training I was stationed at Hill AFB in Ogden, Utah – assigned to the Distribution Supply Squadron – Transportation (DST) at the Air Freight Terminal in April 1985—shortly after my arrival I was injured while loading a C-141 with my crew. In April 1986 I was medically discharged from the US Air Force due to my injury. So, as you can see my military career was very short and not nearly as interesting as some others have been.
I met and married my husband Rob (bobby knoxville on Corpsman.com) while we were both stationed at Hill AFB. We celebrated our 22nd anniversary in April 2008. We have 2 sons – Dan and John – Dan enlisted in the Navy in February 2006. I currently work for a family owned chain of pet supply stores doing accounts payable and other professional gopher work.
While I was searching for a caduceus to decorate the cake for Dan's graduation/going away party I hit upon Corpsman.com and ended up talking to Da-Chief about the logo. He went out of his way to locate and email me EXACTLY what I was looking for. I have been a member of Corpsman.com ever since. What a great help it has been too – answering all my questions and helping me cope with my son going away to boot camp(RTC). Then later as he went to NHCS, FMTB, and off on his first deployment. I do what I can to help out around the site, answering questions when I can and pointing people in the right direction when I can't. I also host our weekly Tuesday chat and edit the site newsletter Scuttlebutt each month.
Hope you enjoy Scuttlebutt and if you have any suggestions or comments – email me
DeeDee
Editor Scuttlebutt
editor@corpsman.com
---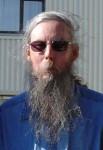 DanM (LPO Forum Moderator, Coordinator-Veteran News)

DanM enlisted into the United States Navy for the rate of Hospital Corpsman in May of 1969. DanM attended Recruit Training, at the Naval Training Center, San Diego, California and Hospital Corpsman 'A' school at Naval Hospital San Diego, CA.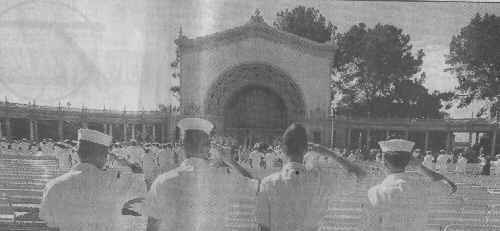 Photo appeared in the Thursday, September 25, 1997 edition of the San Diego Union-Tribune. Navy School for corpsmen in S.D. closes after 69 years
Upon graduating Hospital Corpsman 'A' school, DanM received orders to Naval Hospital San Diego. Shortly thereafter, he received subsequent orders to attend Optician 'C' school NOSTRA – Williamsburg, VA and gained the NEC HM-8463.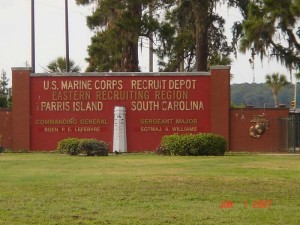 In 1972, DanM received orders to Marine Corps Recruit Depot – Parris Island. In 1973, DanM reported aboard Navy Regional Medical Center – Pearl Harbor, Hawaii. In 1975, DanM returned to NOSTRA – Yorktown, VA and left naval service in 1979 as an HM1.
DanM has two sons, resides in Minnesota and is semi-retired. His professional career encompassed a very successful and multi-disciplined business acumen. DanM is well traveled, both nationally and internationally and brings to Corpsman.com a wealth of knowledge and expertise.