Corpsman.com Holiday Newsletter needs your Help!! Please Assist!!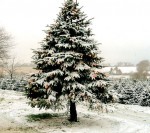 DeeDee (Corpsman.com Scuttlebutt News Editor) needs your assistance!!
She is getting the Holiday/End of year newsletter together right now, and could do it  in under 5 minutes??
How could that be?
Well no one has submitted Holiday wishes to her to be included in the Newsletter.
Last years newsletter had almost 40 pages of articles and well wishes to our folks in the military or family members back home.
Please email your submissions to editor@corpsman.com by 12/12/09 for inclusion in the year-end issue to be ready for your reading pleasure 12/23/09.
Show your love for your fellow Doc's!! I am calling on all you Active and Reserve Doc's out there!!
Quite a few of our Deployed folks (HMC Hedien my Sistah!) are deployed during this holiday season and they love this newsletter when it is published.
Come on folks help us out, all it will cost you is a little time.
Thanks!
Darrell Crone
Da-Chief
Corpsman.com