(Air Force) Western Medicine helping in Afghanistan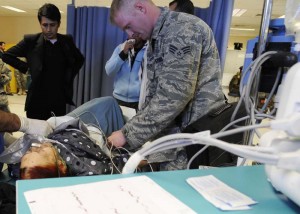 From AirForcetimes.com
KANDAHAR AIRFIELD, Afghanistan — Abdul Bachery fell off a roof when he was 10 and spent seven years limping around with a dislocated right knee.

In March, after spending nearly half his life injured, Bachery finally found help. An Afghan orthopedic surgeon, Dr. Nik Mohammad Shinwad, reconstructed Bachery's knee at Kandahar Regional Medical Hospital, run by the Afghan National Army.

Opened in December 2007 not far from here at Camp Hero, the one-floor hospital has a staff of 42 Afghan health professionals — all trained in western medicine by 11 Air Force doctors, nurses and pharmacists.

Most of the patients are Afghan soldiers wounded in combat. More families like Bachery's, however, have heard that the Afghan hospital accepts civilian patients and are showing up. Even Taliban fighters picked up from the battlefield get treated.

"This is a military hospital, but we do not turn away civilians if we have the beds. Helping kids like [Bachery] helps show the Kandahar people that the Army and the government are here to help them," Col. (Dr.) Lorn Heyne, chief of the Air Force training team, said as he stood next to Bachery.
Very good article on AirForcetimes. You can read the whole thing here: http://www.airforcetimes.com/news/2010/04/airforce_hospital_041810w/