Silver Stars for Corpsman, fallen Marine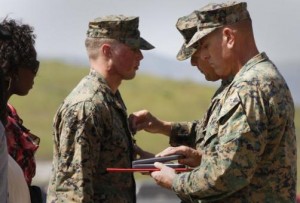 Within the span of two weeks, we learn of yet another Corpsman who has earned the distinction for one of our nations top honors.
CAMP PENDLETON, Calif. — At a midday ceremony Friday on a hilltop parade deck, 3rd Battalion, 1st Marines, marked the sacrifice and selflessness of two men whose actions amid an intense firefight in Afghanistan last summer will be forever honored with the Silver Star.

Cpl. Larry D. Harris Jr., a 24-year-old fire team leader with an 81mm mortar platoon, saw his machine gunner fall to gunshot wounds during the July 1 battle in Helmand's Garmsir district and immediately ran into the kill zone to pull the wounded Marine to safety. He carried him back under fire, intent on reaching safety at an evacuation site while his squad battled a Taliban force of nearly 40 fighters.

It would be Harris' last moments alive. Crossing through a vineyard, he hit an improvised explosive device, which detonated, killing him as his body took the brunt of the blast.

The Marine he tried to rescue that day survived, which the Marine Corps, in awarding the Silver Star posthumously, credits to Harris' "bold leadership, wise judgment and complete dedication to duty." Harris "ultimately saved the life of the wounded Marine," states the award citation.

The explosion left three men, including the squad's "Doc" who had accompanied Harris in treating and evacuating the wounded machine gunner, critically wounded. The blast shot shrapnel into the face and neck of Hospital Corpsman 3rd Class Peter A. Gould, and he was losing blood fast. But he was undeterred, directing other Marines to aid and save their wounded brothers and get them to the evacuation site as fighting continued in the attack, which began before dawn along farmland and canals and lasted all morning with exchanges of rifle, grenade and machine gun fire as their squad was reinforced by two more from their patrol base.
You can read the rest of the article here: NavyTimes
Congratulations from Corpsman.com to HM3 Peter A. Gould