Check out "Ramblings of a Patriotic Hippie Chick"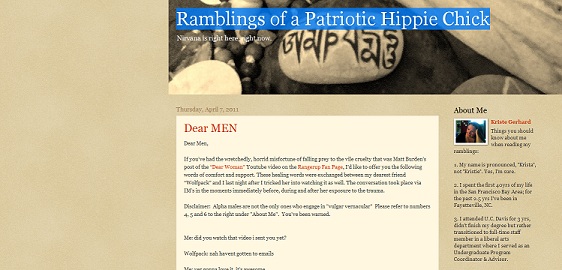 First up front.  I went to school with Kriste, she was one of my best friends in high school.
There are stories she could tell you about the almighty "Da-Chief" that would make me want to climb underground and hide until death.
🙂
Anyways, we have just re-connected on Facebook and the Internet, and I have to say I am mighty impressed.
You can't find a more mighty advocate of the Army and all services then her.  Like me though we tend to speak bluntly.
In other words, if you want an ass-kisser, or a YES WOMAN, this is not the person to go to.
BUT
If you want someone who will give you a straight answer, who will fight heaven and hell to help someone in need..
Kriste is your girl.
It's my honor to add her to our list of blogs on the right.  Please give her site a read, and get involved.
Da-Chief
Corpsman.com