Happy Birthday Warrior Healers!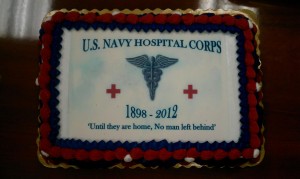 For 114 years now, the members of our Hospital Corps have voluntarily put themselves before others, dedicating their service performed without regard to consequence, and often at a great cost. I couldn't ask to belong to a better community – it's my fervent belief that no other organization prides itself on its history and dignity than the Hospital Corps. Being a part of every conflict since the founding of the Navy, our titles may have changed, but the spirit and professionalism has not.
I've been privileged to meet a great many fellow HM brothers and sisters throughout my time so far, and I can't begin to thank them all enough for passing along some form of wisdom; whether relating to medicine, leadership or even something as simple as putting up with the occasional dumb question, they've been there for me.
So this weekend as we participate in celebration and revelry of 114 passionate, professional and dedicated years of service, I want to reflect on those who've gone before us and paved the way, those who we've lost along the way, and those who are just starting out and finding their way.
To those before us: A hearty Thank You! You have conquered challenges we can't even fathom today, and helped to define the generation that followed. While technology may have changed the way we apply medicine, you taught us the principles.
To those taken too soon: Always remember that you are never forgotten! Your memories live on in your families, relatives, and all of us within the Hospital Corps. You are the epitome of our Pledge in that through 'dedicating your heart, mind and strength to the work before you' meant that those Sailors and Marines made it home even though you did not.
To those discovering the road: You are our legacy! Learn it, Live it, Love it! Today we are more diverse than ever, serving in a time of need and uncertain conflict. It's one thing to say I'll serve, but quite another to realize that service as a Hospital Corpsman is anytime, anywhere.  Our newest graduates are meeting that challenge, and becoming our replacements.
On a personal note, I want to thank Darrell for all that he's done, and that this site wouldn't be what it is without all of the energy, heart, sweat, tears and soul that he's poured into it over the years. Please know that you are always welcome, brother! As I take the reins, it'll be a slow transition – I don't believe in change for the sake of 'change' but rather change for the sake of 'better.' To that end, I welcome all suggestions, comments, and thoughts about how we can continue to grow and develop as a community and a family. I can always be reached at indy@corpsman.com.
Once again, Happy Birthday!
Cheers,
Indy