Wounded Corpsman earns Silver Star
July 19, 2011 by Indy
Filed under Air Force News, Army News, Coast Guard News, Corpsman.com Charities, Corpsman.com News, Marine Corps News, Military Family, Military Information, National Guard News, Navy News
Another Doc who exemplifies the Hospital Corps and Honor-Duty-Commitment.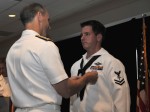 By Sam Fellman – Staff writer
Posted : Monday Jul 18, 2011 13:48:16 EDT
When he saw a Marine in his squad fall, then-Hospital Corpsman 3rd Class (FMF) Jake Emmott rushed headlong into insurgent gunfire to reach him. It was April 20, 2010, and Emmott's squad had fallen under heavy fire during a combat patrol in Helmand province, Afghanistan.