Updated(1038hrs 24Dec10): Help Corpsman.com meet our Goal, we are almost there!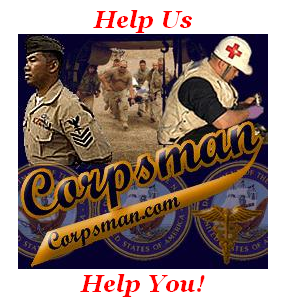 20 December 2010
We need your help.  The following folks have already stepped to the plate to help Corpsman.com meet its goal for the year 2011.
We are only
$72.01

(Updated 1038hrs 24 Dec 2010)
away from meeting our goal.  The bonus to this as well is  I get to stop asking for donations for 1 year once we reach our goal.
The only month we are asking for support now is in December.  This is our fundraising month for Corpsman.com to help us support the upcoming year.
During the month of December this year we have done quite a few things to help us achieve this goal.
Telethon
AOTC 98
AOTC99
AOTC100
Interviews with Stiggy's Dogs, Doc Pardue, Citrus, Master Chief Ski, Wes Emch, and a few other folks.
Updated all Bib's for studying
Updated hospitalcorpsman.org .
Countless updates in our forums.
This isn't just a month of December event either, we do this every day of every month throughout the year.
Updated Posts today:
Episode #99 of AOTC is posted: "Timpani Roll Please"
Doc Pardue passes some valuable info on PTSD:  DOC Pardue is in Da-House!
#100 of AOTC has been posted:  "Who Let the Dogs OUT?!"
Have a Happy and Safe Holiday Season.  We hope you continue to follow Corpsman.com and our shows.
Da-Chief
Corpsman.com
Email: admin1@corpsman.com
Corpsman.com's Phone ## Leave us a message for our shows! : (847) 693-7887 or search for me on Skype: "dfcrone"
Corpsman.com is on twitter: http://twitter.com/corpsman_com
Corpsman.com is on Facebook, search "Corpsman.com" for Group or page
Thanks to the following Folks who have donated, we will update the list as the donations come in.  We will also announce when we have met out goal:
Renee Meade
Wes Emch
Caleb Meade
DeeDee Reno
HMC Rob Kloka
Raymond Fuentez
Debra Cline
Zosimo Gaborni (RADAR)
Amy Campbell
Vicky Palma Ramey
Timothy Bates
Bob Silverman
Kyle Murphy (Kaymanism)
Kerry Pardue
Amy Ury
Danny Morse
Paul Bohling
John (Master Chief) Gobinski
James Davey
John Pilotte
Danielle Destifino
Tamara Burgess
Miguel Acevedo (HMC!)
Michael Cassidy
Darwin Brooks
Douglass Simpson
Yik Wu
Laura Hedien (HMCS)
Tamra Sweezey
James Walker
Ernest Augustine
Bryan Fliegel
Carol Dial
April Weisler
Douglas Whalen
Stephen King
Sean Ramey (Corpsman.com Cups Auction)
Kenneth Brownson
Lawrence McTernan
Jason Rodriguez (HMC, FMF)
Michael Harms
Michael LeBlanc
Gregory Gatz
Christine Madrigal
John Young
Brian Schmock
Levi Hankins